Rider Physiotherapy
Kate in an experienced Chartered Physiotherapist and a member of the CSP (Chartered Society of Physiotherapy). Kate is an APPI (Australian Pilates and Physiotherapy Institute) trained Pilates instructor and an Equipilates™ Biomechanics Trainer specialising in rider Pilates. Kate can treat a number of musculoskeletal problems and sports injuries including:
Lower back pain which can limit rider performance
Neck and thoracic pain
Upper and lower limb pain or dysfunction
Muscle imbalance
Rehabilitation post injury: e.g. fractures and soft tissue injury
Rider falls and injuries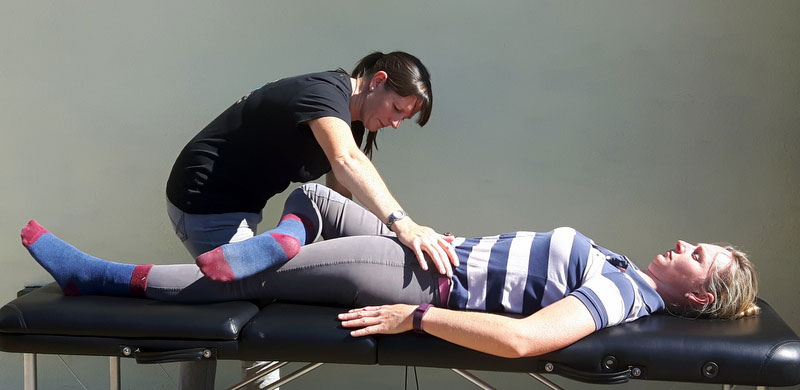 Kate uses a number of skills to treat her clients' symptoms including:
Manual therapy: including joint mobilisation, massage, trigger point release, myofascial release
Exercise therapy
Ergonomic and postural education
Electrotherapy
Kinesiotaping
Pilates exercise and rehabilitation
Kate offers a mobile physiotherapy service and can often be found treating people on yards in tack rooms and tea rooms! Kate uses her physiotherapy skills and Pilates as part of her day to day rider physiotherapy practice with great success to get riders back on board as quickly as possible and optimise her clients' performance in the saddle.
If you are having positional difficulties in the saddle and can't seem to sit straight please see the Equipilates™ Rider Assessment page for full details on Kate's specialist rider assessment service.
Prices
Assessment and treatment: 1 hour: £60
Assessment and treatment: 30 minutes: £40
Pilates and Equipilates™ classes
Kate offers a 1:1 Pilates service for riders and non-riders or get a group of you together and have a group session!
Pilates 1 to 1 session 45 minutes: £45
Pilates group sessions/classes 1 hour:

£10 per person based on a group of 8 people
£12 per person for group of 6 people
Call Kate on 07957 344 688 to discuss your Physiotherapy and/or Pilates needs.