Equipilates™ Rider Assessment details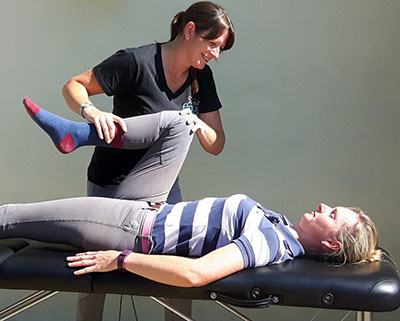 An initial rider assessment session consists of:
Postural assessment
Intrinsic biomechanical screening
Corrective exercises
Gym ball assessment
Assessment on a wooden horse to identify areas of your body that may be causing positional difficulties in your riding
Once this first session has been completed and your body has less restrictions Kate will provide Pilates based exercises to mobilise your body and strengthen your core to support your riding.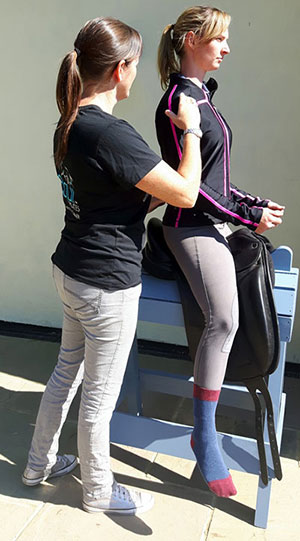 A bit more about the session
Intrinsic biomechanics screening assessments identify any restrictions in your pelvis, spine and peripheral muscles that may be in low grade muscle spasm or a restriction in nerve and joint mobility. The screening assessment allows Kate to identify the problem areas and provide corrective exercises to address these issues.
Gym ball assessment's will look at your spinal mobility, how well you are weight bearing through each seat bone and exercises that can help postural asymmetries that are really fun to do!
Finally Kate will assess you on 'Woody' the wooden horse using your own saddle. Kate will assess your sitting position, go through aids required to activate your core and effective and helpful breathing exercises. You will be given riding based exercises and cues to help you monitor your position during your own riding to help keep you aligned with your horse. To get most benefit Kate recommends at least 3 unmounted sessions. 1 unmounted session is recommended prior to any on horse mounted sessions.
Initial off horse rider assessment 1.5 hours: £70
Follow up off horse session approx 45min- 1 hour: £55-£60 dependant on time
---
Equipilates™ on horse assessment sessions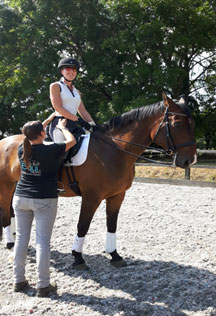 On horse assessment's will include Kate assessing you on your own horse in an arena environment. Kate will look at your position, posture and symmetry whilst riding using a Visualise training jacket. Various mobilising, visualisation, and postural awareness techniques will be used to enable you to make postural adjustments whilst on your horse to help your connection, balance and harmony with your horse. Kate will give you an individual set of techniques to assist your position and symmetry when you are riding alone or during your training sessions with your own trainer.
On horse assessment approx 1 hour: £60
On horse follow up session approx 1 hour: £60
Combined Off horse session 45 minutes and on horse session 45 minutes: £90
Kate is available for group workshops at your yard. Call Kate if you are interested in getting a workshop organised at your yard.